National
Duel at Moran Market
Dog Lovers Vs. Dog Meat Merchants
2 Million Dogs Consumed in S. Korea Annually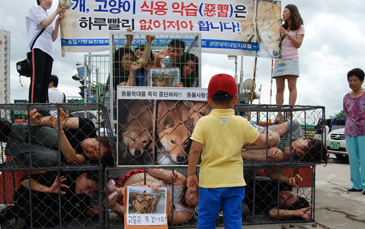 Animal rights activists perform a anti-dog meat protest at Moran Market in Seongnam City east of Seoul on July 18, 2010.
On July 18, 2010, one day ahead of the first "Dog Day" or the First Boknal (初伏), Moran Market, in Seongnam City just east of Seoul, was teeming with buyers and sellers of dog meat.

Moran Market is famous for the dog meat since it provides 30 percent of all the dog meat consumed in South Korea. The largest whole sale dog meat market in the nation, Moran Market is lined with some 100 shops and restaurants dealing with dog meat.

To the merchants of dog meat, "Dog Days" or "Days of Bok (伏)" are the most important period of the summer, since dog meat consumption reaches its peak.

The merchants got busier as more and more people entered into the market to purchase dog meat.

But around 1 p.m. a group of some 30 young protesters barged in. They gathered in front of the market with pickets and placards in their hands.








Dogs in a case are waiting to be slaughtered at Moran Market in Seongnam, east of Seoul. Moran Market is the largest dog meat market in South Korea.

Placards read "Stop Animal Abuse," or "Stop the Bad Habit of Eating Dogs and Cats."

Some protesters trapped in cage, as if they were caged dogs, called for the awareness to the animal cruelty, denouncing the circulation of dog meat.

In a performance they were reenacting a scene where caged dogs were waiting for their brutal death.

One protester said that they have been doing the demonstration here at the Moran Market for the seventh time in a row.

They were members of the four major animal protection associations including "CARE(Coexistence of Animal Rights on Earth)"

"Pain is equal to animals as well as to humans," one member was quoted as saying.

A 17-year-old high school girl said "It is so cruel and I cannot watch this" with her eyes full of tears.

"I have been eating dog meat for all my life," an old woman lamented. "What are we goind to do about this."

Dog meat merchants did not react emotionally or angrily toward this protest.

"Several years ago, we threw shits toward the protesters, but we do not respond to them at all," said a 55-year-old merchant who identified himself as Lee Kang-Chun.

He said he has been running his dog meat shop for 28 years at this market.

Another shop owner, known only as his last name Kim, said "We have differing values, what can I do?"

"They do what they have to do, and we do our job," he said.

Then all of a sudden, both sides got emotional, ready to explode.

A couple of protesters shouted "You all go to hell" to the merchants.

"We will put fire on your shot with kerosene," they shouted.

Merchants got angry as well. "You go to hell," they returned the shouting.

A female merchant, who runs a dog meat shop, said "Sales of dog meat shoot up nearly 50 percent just ahead of 'Dog Days'"

Around the end of the demonstration Lee brought his German pointer.

"I keep my own pet dog," Lee said.

"We differentiate meat dogs from pet dogs," Lee tried to explain to journalists on the scene.

"Some irresponsible people abandon their pets here, but we never slaughter pets," Lee said. "We try to bring the lost pets to their owner."

Lee argument was countered back by an animal rights activist, 39-year-old Park So-Yeon, who heads CARE(Coexistence of Animal Rights on Earth).

"What's the difference between pet dogs and meat dogs?" She said. "I cannot understand the pet dog owner who slaughter dogs and sell dog meat."

"Pet dog owners have been on the steady rise," she said. "Eating dog meat is the bad habit when we so dirt poor"

Lee fought back.

"Dog meat is our traditional food," he countered. "Dog meat is fit for the physical conditions of Koreans"

"Many customers say they were advised by doctors to eat dog meat," Lee argued.

Another merchant, 49-year-old Cho Keun-Young, pointed out the unhygienic conditions of slaughtering and circulating dog meat. Cho has been running his dog meat shop for 23 years.

Presently, there is no strict control over hygiene of dog meat because dogs are not included in livestock range with cows or pigs according to the law on stock farm products process.

Thus the dog meat restaurants are treated the same as other restaurants which are subject to the Food Hygiene and Safety Law.

There are about 200,000 dog meat restaurants or dog soup shops around the nation.

In Seoul area alone there are some 6,000 restaurants selling dog meat.

Everyday a total of 200,000 dogs are butchered for meat or soup.

Annually, 2 million dogs are consumed in South Korea.

For details about the protest or if you want to protest or report any cases of animal abuse please contact President Park So-Yeon of CARE(Coexistence of Animal Rights on Earth) at 02-313-8886 or visit CARE website at www.fromcare.org